Dimpleplasty, also known as dimple creation or dimple surgery, is a minimally invasive plastic surgery procedure that creates the appearance of dimples in the cheeks.
If you've always admired cheek dimples and longed for these smile-accentuating facial features, a dimpleplasty can give you dimples that naturally complement the contours of your face. Below is a quick guide to this procedure.
How Does Dimpleplasty Work?
Dimpleplasty involves making a tiny incision inside a patient's cheek and removing a small piece of cheek fat. Sutures are placed to anchor the mucosa to the underside of the skin. The incision on the inside of the cheek — and the scar tissue that forms after the suture is removed — leaves a permanent indentation to create the dimple.
Are There Any Side Effects?
Possible side effects that can occur following dimpleplasty surgery include:
Redness and swelling
Bleeding
Facial nerve damage
Infection
Scarring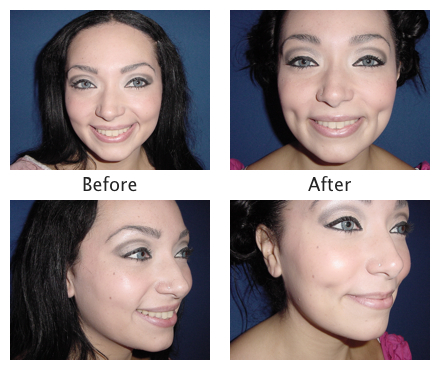 What to Expect During Dimpleplasty Surgery
Dimpleplasty is an outpatient procedure that takes approximately 30 minutes to complete and is done under local anesthesia.
Your surgeon uses a small biopsy instrument to make a tiny incision along the inside of your cheek. A small amount of fat is also removed to aid in dimple creation. Sutures are used to anchor the dimple into its proper location, causing a dimpling effect. No visible incisions or scars are left on the outside skin.
How Long Does Dimpleplasty Take To Heal?
The sutures are removed in 7-10 days. During that time, the cheeks are swollen and the dimples will be very indented. When the sutures are removed, the dimples may disappear for a few weeks and then reform.
It is important to understand that this is a permanent procedure, and it may not be possible to remove the surgically created dimples.
Dimpleplasty recovery is relatively straightforward. Patients can go home immediately after surgery and return to their normal activities in a few days.
Who Is a Good Candidate for Dimpleplasty Surgery?
Dimpleplasty is a safe and reliable procedure. It can benefit men and women who are in generally good health and looking to create natural-looking dimples in the cheeks or chin. Dimpleplasty is also a good option for those who want to enhance their existing dimples.
The procedure is not recommended for heavy smokers and those with blood clotting diseases or infections around the mouth. A consultation with a board-certified dermatologist or plastic surgeon can help you determine whether you're eligible for the procedure.
Schedule a Dimpleplasty Consultation in the Bronx, NYC
Dimpleplasty can give you the dimples you've always wanted, but this procedure must be performed by a qualified provider who understands how to help you achieve the results you envisioned.
The first step is to schedule a consultation at Bronx Plastic Surgery, where it is our mission to exceed patient expectations by providing the highest level of care and enhancing natural beauty with the most advanced surgical techniques. To learn more about the dimpleplasty procedure and schedule an appointment, contact Bronx Plastic Surgery today.