Dimples are small depressions on the skin's surface, most often located on the cheeks. A dimple is formed from a small opening in the cheek muscle, allowing the skin to conform to the defect and create an indention. 
Dimples are often considered a sought-after beauty mark and a coveted facial feature. Dimple plastic surgery is a cosmetic procedure used to create permanent dimples.
What to Expect During Dimple Plastic Surgery
Dimple plastic surgery is a simple, minimally invasive surgical procedure for creating natural-looking dimples in the cheeks. During the surgery, a board-certified plastic surgeon will first place an incision inside the mouth to eliminate visible scarring on the skin's surface. They will then insert a small suture through the incision and catch the underside of the skin. When the suture is tied, the tension creates a depression on the skin's surface and forms dimples.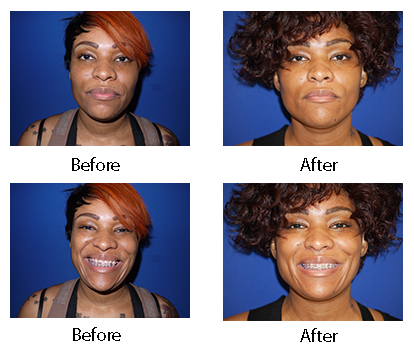 The internal incision is critical for the dimple plastic surgery procedure because the scarring between the skin and muscle is necessary for the dimple to become permanent. Like naturally occurring dimples, surgically placed dimples on the cheeks will only be visible when smiling or making certain facial expressions.
During your consultation, you can discuss the optimal placement and depth of the dimples to have an accurate vision of the results. The procedure is performed with local anesthesia to reduce pain and discomfort for a smooth experience. Your plastic surgeon will also provide an antibiotic and antibacterial rinse before surgery to prepare your mouth for the incisions.
How Long Is The Procedure?
Dimple plastic surgery is a safe and effective procedure that takes approximately 20-30 minutes. Patients can drive home after the procedure and can return to normal activities within 1-3 days after surgery with minimal side effects. Side effects some patients may experience include:
Swelling
Bruising
Tenderness
Infection
Bleeding
After your dimple plastic surgery procedure, your surgeon will provide specific aftercare instructions to help manage pain and reduce potential side effects. The mouth can be a source of bacteria and should be adequately cleaned with an antiseptic mouthwash. Your physician may also suggest a liquid diet until the anesthesia and pain subside or prescribe an antibiotic to help keep the site clean and promote healing.
How Soon After Surgery Will You See Results?
Patients will notice visible results immediately after dimple plastic surgery. The dimples may be visible at all times after surgery, but as the skin and tissue heal, the dimples will settle and may only appear when you smile. The sutures will be removed in one week and begin to create a softer, more natural dimple. Complete healing and full results should occur within 1-2 months after surgery. This minor surgical procedure is simple and quick, producing permanent results and natural-looking dimples immediately after the procedure.    
Will Dimple Plastic Surgery Work on All Skin Types?
Dimple plastic surgery is ideal for all skin types. The ideal candidate for dimple surgery should be in good health and seeking permanent dimples in the cheeks. Regardless of skin tone and type, men and women can choose the surgery and have successful results because the procedure is performed inside the mouth and not on the skin's surface. 
The internal incision and suture are ideal for most patients because they eliminate visible scarring and outside skin alterations. Limiting the procedure to inside the mouth can make the procedure ideal for patients with challenging skin types.  
Are You A Good Candidate for Dimple Plastic Surgery?
Many healthy patients are good candidates for dimple plastic surgery. Men and women seeking permanent dimples on the cheeks can schedule a consultation with Dr. Robert Goldstein for a comprehensive medical review. Your surgeon can review your cosmetic and medical history to determine if dimple plastic surgery is right for you. Some medical concerns exclude patients from the procedure, such as:
Blood clotting diseases
Infections in and around the mouth
Heavy smoking
Contact Bronx Plastic Surgery Today
At Dermatology & Surgery Associates and Bronx Plastic Surgery, our professional team of five board-certified dermatologists and one plastic surgeon provides full-service care through comprehensive medical dermatology services and plastic surgery procedures. We aim to restore natural beauty through individual treatment plans, advanced treatments, and innovative surgery techniques.
Bronx Plastic Surgery offers a range of cosmetic surgery procedures to help patients meet their beauty goals with quality procedures and exceptional results. Dr. Robert Goldstein is a highly trained and experienced cosmetic and reconstructive plastic surgeon who can create natural and beautiful dimples to enhance natural facial features. Contact us online or call 718.568.6401 to schedule a consultation and learn more about dimple plastic surgery.