Have you ever looked in the mirror and thought that something was missing? Maybe you feel that your smile could be more youthful or attractive, or perhaps you have always wanted dimples and think they would add a unique quality to your appearance. If you are considering cosmetic changes, dimple creation surgery may be the right choice for you.
Dimple creation surgery is a cosmetic surgery that is used to create natural and permanent dimples on the face. This surgery is typically done on the cheeks.
What Are the Benefits of Dimple Creation Surgery?
Surgery for dimple creation is a safe and straightforward procedure with many benefits, including:
Outpatient surgery with minimal downtime

Natural and permanent results

No visible scarring

Easy recovery

Immediate results

Enhanced facial characteristics

Increased self-confidence

Improved facial symmetry

More youthful appearance 
There are many reasons why people might want to consider dimple creation surgery. For some, dimples are seen as a sign of youthfulness and attractiveness. Dimples can also add character to your smile and make you look more approachable. If you have always wanted dimples but were born without them, dimple creation surgery can provide a distinct look with a simple procedure and recovery.
Are There Any Potential Side Effects?
While dimple creation surgery is generally safe, there are some risks and side effects associated with the procedure. These can include:
Infection

Scarring

Nerve damage

Bleeding

Swelling
You may also experience temporary numbness or pain in the area where the surgery was performed. Side effects can last for up to two months after surgery, and during that time, dimples may be visible all the time.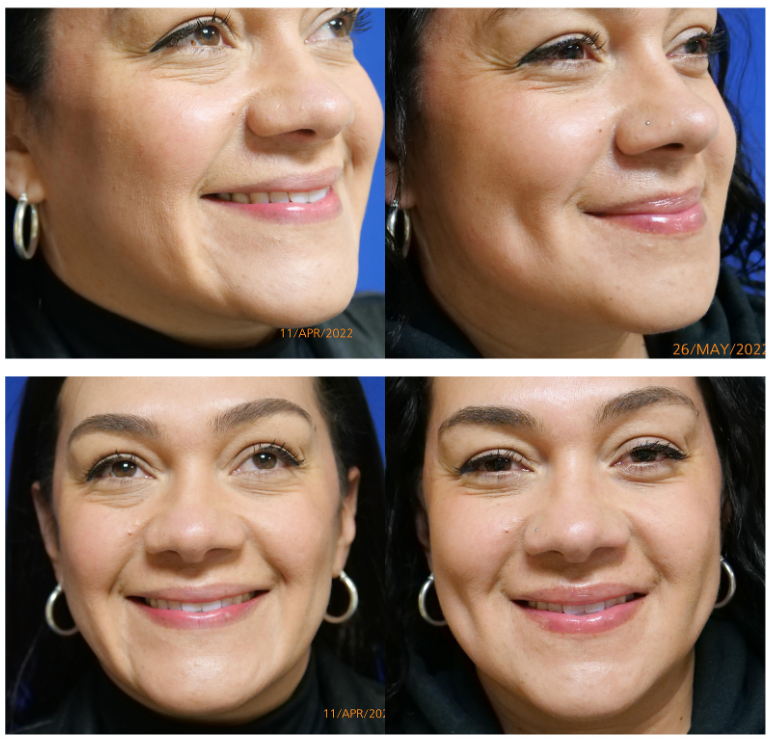 As swelling subsides and the incisions heal, the dimples will only be visible while smiling, like naturally occurring dimples. It is important to discuss the side effects and recovery with Dr. Robert Goldstein before having dimple creation surgery to ensure that you are making the best decision for your health and appearance.
Who Is a Good Candidate for the Surgery?
The best candidates for dimple creation surgery are people who are in good overall health, have realistic expectations, and seek a relatively minor appearance change. If you are considering dimple creation surgery, you should discuss your goals and concerns with a board-certified plastic surgeon to ensure that the procedure is right for you.
Suppose you have medical conditions that could affect the healing process, such as diabetes, a blood disorder, or recurring mouth infections. In these cases, you may not be a good candidate for dimple creation surgery. It is essential to discuss your medical history and goals for the procedure with your surgeon to ensure that dimple creation surgery is right for you. Dr. Goldstein will assess your medical and cosmetic history to create a custom treatment plan and prepare for a safe and effective procedure to meet your beauty goals.
How Long Does Recovery Usually Take?
Patients should plan for 1-3 days of rest without vigorous activity, but many can return to most normal daily activities the following day. Potential side effects like swelling and tenderness can make the dimples appear more noticeable, but as the incisions heal, the dimples will appear more normal and only show when you smile. 
While many patients can participate in everyday activities within days after surgery, common side effects like swelling can last up to two months after surgery. Patients often recover within 2-3 weeks, but complete results are visible when side effects are fully resolved.
When Will You Start Seeing Results From Dimple Creation Surgery?
Patients can see immediate results after surgery for dimple creation. Incisions are made inside the cheeks and connect a small part of the muscle to the skin with a suture. The indention created by the tissue is visible following the surgery and will remain visible until the incision is healed. Once healed, the dimples will mimic natural dimples. Complete recovery and final results can take up to two months.
Schedule Your Dimple Creation Surgery With Dermatology & Surgery Associates and Bronx Plastic Surgery
Working with a board-certified plastic surgeon is critical when considering dimple creation surgery. A board-certified plastic surgeon will have the experience and training to perform the procedure safely and effectively. They will also be able to answer any questions that you may have about the surgery, the recovery process, and your expectations for the results.
Dermatology & Surgery Associates and Bronx Plastic Surgery have highly trained, board-certified physicians to ensure natural and beautiful results. Take the next step and consult with Dr. Robert Goldstein, our experienced, board-certified plastic surgeon, to see if dimple plastic surgery is right for you. Contact us online or call 718.568.6401 to schedule a consultation and learn more about the cosmetic procedure.